Thoughts on Designing Domestic Violence Laws and Services to Protect Teens
Author: Kelly Lowenberg .; Juley Fulcher.
Source: Volume 13, Number 02, December/January 2008 , pp.19-24(6)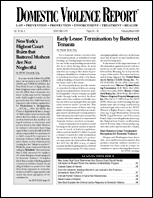 next article > |return to table of contents
Abstract:
Teen dating violence is a severe problem that inflicts immediate harm and potentially devastating long-term consequences upon young people. Nationally, young women aged 16 to 24 experience the highest rate of intimate partner violence. Like domestic violence among adults, violence experienced by teens occurs across racial and ethnic lines. The dynamics of teen dating violence—such as attempts to maintain control of victims through physical abuse, threats, isolation, and intimidation—mirror those of adult abusive relationships Perhaps the most devastating lasting effect of teen dating violence is its potential duration throughout adulthood. Dating violence victimization can be a precursor for intimate partner violence in adulthood, particularly for women.
Keywords: need for statutory revision; Training on Teen Dating Necessary; states must develop court services to address juvenile domestic violence

Affiliations: 1: Break the Cycle; 2: Break the Cycle.