Case Summaries
Author: Anne L. Perry.
Source: Volume 19, Number 05, June/July 2014 , pp.75-77(3)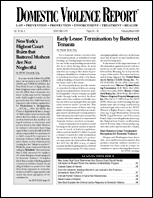 < previous article |next article > |return to table of contents
Abstract:
This column summarizes and discusses recent court cases of interest, including a Mass Supreme Court finding that a lower court improperly considered impact on visitation in deciding on a protection order: the Supreme Court issued a list of factors judges may consider in setting the duration of abuse prevention orders. Other cases covered include rulings on Phone Calls From Abroad Placed Victim in Fear Sufficient to Constitute Stalking in Violation of Restraining Order; Court Upholds Jury Instruction Which Considers "Fear" Created in Victim; Entering Protected Person's Workplace Caused Reasonable Fear of Future Abuse; Harassing Litigation Can Be Abusive Conduct; Criminal No Contact Orders Survive Constitutional Challenge; Protection Order Upheld Based on Threats of Revenge Porn.
Keywords: Moreno v. Naranjo, 987 N.E.2d 550 (Mass. 2013); Commonwealth v. Gupta, 682, 2 N.E.3d 903 (Mass. App. Ct. 2014); In re Ramos v. Caceres, 961 N.Y.S.2d 282 (N.Y. App. Div. 2013); State v. Minnesota, No. A12-0290 (Minn. 2013); and Clark v. McLane, 2014 W

Affiliations: 1: Contributing Editor.