Complete Issue
Author: D. Kelly Weisberg.
Source: Volume 19, Number 05, June/July 2014 , pp.65-80(16)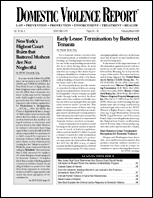 < previous article |return to table of contents
Abstract:
This is the complete issue, Volume 19 Number 5. It includes the full text of all the articles listed above, with hyperlinks from table of contents entries to articles and linked article continuations, to facilitate reading.
Keywords: United States v. Castleman , 572 U.S. __2014; Domestic Violence Legal Empowerment Appeals Project; Hague Convention; Lozano v. Montoya Alvarez, 134 S.Ct. 1224; 911 Call Records; Coalition Advocacy; child exposure to IPV

Affiliations: 1: UC Hastings School of Law and Editor DVR.