Children Exposed to Domestic Violence: Review of Recent Research Findings
Author: D. Kelly Weisberg.; Megan Miller.
Source: Volume 19, Number 05, June/July 2014 , pp.72-74(3)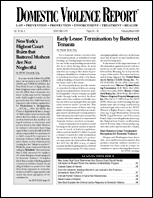 < previous article |next article > |return to table of contents
Abstract:
This column reviews a recent article, "Intervention Following Family Violence: Best Practices and Helpseeking Obstacles in a Nationally Representative Sample of Families With Children", by Sherry Hamby, David Finkelhor & Heather Turner, in Psychology of Violence 1 (April 2014). The research team examined the impact on children of witnessing violence, the criminal justice system response, adult victims' perceptions, advocacy response, and policy implications. While exposure to IPV is, predictably, extremely harmful to children, the failure of the justice system to adequately investigate, prosecute, try, and convict perpetrators also does harm, the authors conclude.
Keywords: child exposure to violence; justice system responses to IPV

Affiliations: 1: UC Hastings School of Law and Editor DVR; 2: UC Hastings School of Law.