DV Appellate Litigation: Holding the Legal System Accountable
Author: Nancy K. D. Lemon.; Joan Meier.
Source: Volume 19, Number 05, June/July 2014 , pp.65-68(4)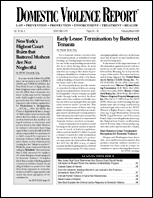 < previous article |next article > |return to table of contents
Abstract:
In the past ten years, several domestic violence appellate projects have sprung up around the U.S., in recognition that trial courts are not reliably implementing the many law reforms adopted on behalf of domestic violence survivors over the past several decades. This article focuses on the three leading projects/organizations specializing in appellate domestic violence litigation.
Keywords: Domestic Violence Legal Empowerment Appeals Project; DV LEAP; George Washington Law School; C.W. v E.F., 928 A.2d 655 (D.C. 2007); Murphy v. Okeke; New York Legal Assistance Group's Appellate Representation Project; NYLAG; Family Violence Appellate

Affiliations: 1: UC Berkeley School of Law; 2: DV LEAP.