Supreme Court Decides Landmark Firearms Case: U.S. v. Castleman
Author: Rob (Roberta) Valente.
Source: Volume 19, Number 05, June/July 2014 , pp.65-67(3)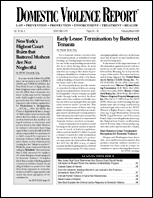 next article > |return to table of contents
Abstract:
The U.S. Supreme Court rarely rules on issues impacting victims of domestic violence, and even more rarely issues a decision that provides unqualifiedly good news for victims and their advocates. But in the Court's recent, unanimous outcome in United States v. Castleman, the result was indeed welcome: in addition to upholding the Lautenberg Amendment (the federal law that prohibits persons convicted of certain misdemeanor crimes of domestic violence from possessing firearms), a majority of the Court adopted a broad definition of "domestic violence" that is informed by the work of the field. This article summarizes the background of the case and nature of the decision.
Keywords: United States v. Castleman , 572 U.S. __2014; 18 U.S.C. § 922(g)(9); physical force requirement; United States v. Castleman , 695 F.3d 582, 586; straw purchaser; Justice Sotomayor

Affiliations: 1: National Domestic Violence Hotline.