U.S. Supreme Court Holds Child's Concealment Does Not Extend Hague Convention Period
Author: Anne E. Perry.
Source: Volume 19, Number 05, June/July 2014 , pp.67-68(2)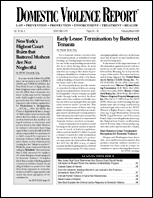 < previous article |next article > |return to table of contents
Abstract:
The U.S. Supreme Court ruled that the principle of equitable tolling does not apply to the Hague Convention on the Civil Aspects of International Child Abduction, even when the child's whereabouts have been concealed.
Keywords: Lozano v. Montoya Alvarez, 134 S.Ct. 1224 (2014)

Affiliations: 1: DVR Contributing Editor.