New York State's Integrated Domestic Violence Court Model: Results From Four Recent Studies
Author: Amanda B. Cissner.; Sarah Picard-Fritsche.; Michael Rempel.
Source: Volume 19, Number 04, April/May 2014 , pp.51-54(4)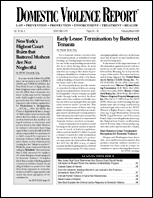 < previous article |next article > |return to table of contents
Abstract:
In the past two decades, many have endorsed the idea of unified family courts in which a single judge hears all of a family's cases. Such courts may be particularly advantageous for victims of domestic violence and their children, who frequently have complex and interrelated cases, the resolution of which may determine their safety. Based on the one family-one judge concept, the New York State court system established more than 40 integrated domestic violence (IDV) courts across the state since 2001. Where there is an underlying domestic violence allegation, these courts place family, criminal, and matrimonial cases involving the same family members before a single judge. Like unified family courts, IDV courts seek to achieve more informed judicial decision-making, fewer conflicting orders, improved service delivery to victims and their children, and a more efficient and comprehensible case processing system. In 2011, research staff at the Center for Court Innovation completed a series of four studies, to examine the IDV court model. This article seeks to synthesize the findings of these studies.
Keywords: Family court; problem-solving courts; domestic violence courts

Affiliations: 1: Center for Court Innovation; 2: Center for Court Innovation; 3: Center for Court Innovation.