Doctors Miss Signs of IPV in Certain Patient Groups
Author: D. Kelly Weisberg.; Elana Jacobs.
Source: Volume 19, Number 04, April/May 2014 , pp.49-51(3)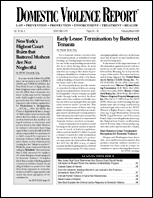 < previous article |next article > |return to table of contents
Abstract:
Medical professionals are missing signs of intimate partner violence (IPV) among particular patient groups. Health care personnel in some medical specialties, such as orthopedics, might be expected to discover the occurrence of IPV among their patients. But remarkably high rates of IPV surface in some unlikely specialties, such as reproductive medicine. Several recent studies about patients in these particular population groups highlight the importance of targeting screening efforts at certain medical specialties.
Keywords: Medical care and IPV

Affiliations: 1: Editor; 2: Hastings College of Law.