California Enhances Protections for DV Victims With Progressive Legislation
Author: Julie Saffren, J.D..
Source: Volume 19, Number 04, April/May 2014 , pp.63-64(2)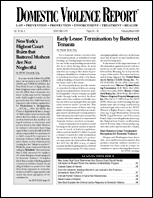 < previous article |next article > |return to table of contents
Abstract:
The California legislature recently enacted a number of important laws that affect survivors of domestic violence. The law reforms encompass criminal and family law measures that address novel forms of intimate partner violence. This article addresses several law reforms identified in the Overview of New Domestic Violence Legislation 2013, prepared by the California Partnership to End Domestic Violence.
Keywords: CPEDV; "revenge porn"; false impersonation; reasonable accommodations for DV victims in the workplace

Affiliations: 1: Santa Clara University Law School.