Financial Repercussions of Domestic Violence
Author: Anne L. Perry, Esq. .
Source: Volume 13, Number 05, June/July 2008 , pp.65-66(2)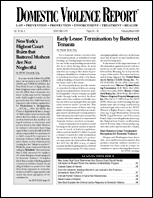 < previous article |next article > |return to table of contents
Abstract:
This article discusses recent cases involving the title subject, including: Moody v.Sorokina , 830 N.Y.S.2d 399 (N.Y. App.Div. 2007); Life Ins. Co. of North America v. Camm , __ F.Supp.2d __, 2007 WL 2316480 (S.D. Ind. 2007); and Smith v. Delta Airlines, Inc. , 2007 WL 186509
Keywords: New York: In Context of Battered Spouse's Divorce and Maintenance, Affidavit of Support of Sponsored Immigrant Was Enforceable as Contract; Indiana: Wife Killer Not Entitled to Wife's Life Insurance, But Distribution Stayed Pending Criminal Appea

Affiliations: 1: Contributing Editor at DVR.