Dealing With Animal Abuse to Alleviate Family Violence
Author: Joan Zorza, Esq..
Source: Volume 13, Number 05, June/July 2008 , pp.67-73(7)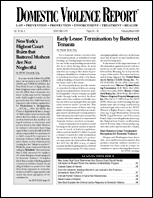 < previous article |next article > |return to table of contents
Abstract:
This article discusses two new publications concerned with the connection between animal and family abuse. Both advance the proposition that we need to devote more attention to animal abuse to help treat and alleviate interpersonal violence, and they offer some constructive and promising strategies for addressing these problems.
Keywords: Special Issue of "Journal of Emotional Abuse" on Animal Abuse; "Animal Abuse and Family Violence: Linkages, Research, and Implications for Professional Practice"; pet abuse in the lives of abused women; impact of animal abuse on family member

Affiliations: 1: Editor, Domestic Violence Report.