Why Men Are So Angry About Divorce
Author: Joan Zorza, Esq..
Source: Volume 13, Number 06, August/September 2008 , pp.83-85(3)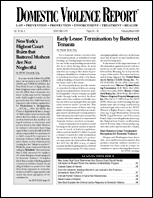 < previous article |next article > |return to table of contents
Abstract:
Those doing domestic violence work notice the fury that men, and particularly men who abuse women, express about divorce and how unfairly they are treated. Given that the data reveals just the opposite, it has never made much sense why they feel so discriminated against and angry. A book by Steven L. Nock, "Marriage in Men's Lives" (Oxford University Press, 1998) sheds light on some of the factors that might be behind this anger. This article discusses these.
Keywords: normative marriage

Affiliations: 1: Editor, Domestic Violence Report.