Economics and Domestic Violence: Part II
Author: Nancy K. D. Lemon, Esq..
Source: Volume 13, Number 06, August/September 2008 , pp.81-84(4)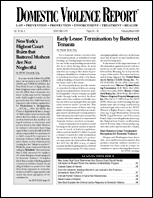 < previous article |next article > |return to table of contents
Abstract:
This is the second of a two part series reviewing recent law review articles about the relationship between economics and domestic violence. The first article advanced the theory of the cause of such abuse by focusing on the major impact which the economy—local, regional, national, and global—has on families, arguing that in depressed communities, domestic violence is likely to increase. The author calls for the domestic violence movement to return to its social change roots, working with other groups to address the larger economic issues of our day as part of preventing abuse. This second article argues that courts should grant child support orders routinely as part of civil protection order proceedings, to better assist survivors to leave abusive partners and to stay away from them, and discusses how the new federal bankruptcy laws harm victims of domestic violence.
Keywords: "Access Denied: The Disconnect Between Statutory and Actual Access to Child Support for Civil Protection Order Petitioners", by Heather R. Parker, 76 University of Cincinnati L. Rev. 271-298 (2007); "Representing Victims of Domestic Violence i

Affiliations: 1: Associate Editor of DVR.