California Trial Court Abused Its Discretion by Dismissing TRO Application Without a Hearing
Author: Annie L. Perry, Esq..
Source: Volume 13, Number 06, August/September 2008 , pp.84-84(1)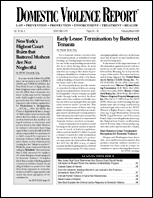 < previous article |next article > |return to table of contents
Abstract:
This article discusses the case: Nakamura v. Parker , 156 Cal. App. 4th 327 (Cal. Ct. App. 2007).
Keywords: Guijosav v. Dominguez , 2007 WL 1849010 (Cal. App. 1st Dist.); "facial adequacy" of Nakamura's application"

Affiliations: 1: Associate Editor of DVR.