Important New York State Trial Court Rulings
Author: Anne L. Perry, Esq..
Source: Volume 15, Number 02, December/January 2010 , pp.21-22(2)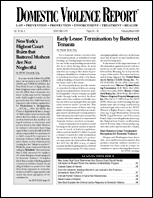 < previous article |next article > |return to table of contents
Abstract:
This column summarizes two unusual recent NY State trial court decisions of particular interest to readers of DVR: People v. Tancredi , 2008 WL 795771 (N.Y. Sup. Ct. 2008) and Metro North Owners v. Thorpe , 870 N.Y.S.2d 768 (N.Y. City Civ. Ct. 2008).
Keywords: Ralph Tancredi; Sofia Saenz' Sonya Thorpe; John Capers

Affiliations: 1: Contributing Editor at DVR.