Battered Woman Denied Housing Transfer
Author: Anne L. Perry, Esq..
Source: Volume 15, Number 02, December/January 2010 , pp.22-22(1)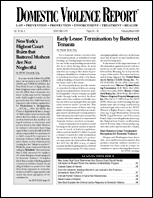 < previous article |next article > |return to table of contents
Abstract:
Plaintiff Yolaunda Robinson filed for a temporary restraining order and preliminary injunction against defendant Cincinnati (Ohio) Metropolitan Housing Authority (CMHA), seeking transfer to another housing unit to protect her from domestic violence. Robinson, a tenant of CMHA in a scattered site family public housing unit, was in a relationship with Charles E. Davis for several months. His abuse of Robinson escalated to the point where she broke off the relationship. Davis then came to Robinson's home, forced his way in, and severely beat her. He also threatened to come back and kill her. Davis's residence was a half block down the street. After the attack, although Robinson continued paying rent and utilities, she and her two children went to stay with friends and family because she was afraid to return to her residence. Charges were filed against Davis but he was still at large. As a result of the abuse and threat to her life, Robinson requested that the CMHA transfer her to another unit or scattered site dwelling so that Davis would not be able to find her and threaten her well being. CMHA declined to transfer Robinson because its policy did not provide for transfers on the basis of a tenant having been a victim of domestic violence. This article discusses the outcome of the case.
Keywords: Robinson v. Cincinnati Metropolitan Housing Authority, 2008 WL 1924255 (S.D. Ohio 2008)

Affiliations: 1: Contributing Editor at DVR.