New Study on Domestic Violence in the Workplace
Author: Joan Zorza, Esq..
Source: Volume 15, Number 02, December/January 2010 , pp.17-19(3)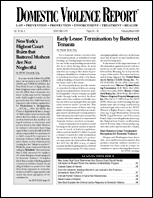 < previous article |next article > |return to table of contents
Abstract:
Peace at Work, a North Carolina organization which works to stop domestic violence in the workplace, just issued "Domestic Violence Assaults in the Workplace" (Oct. 2009), a study by Johnny Lee and Denise Trauth. The study examines in depth 500 of the 620 people physically traumatized or killed as a result of assaults in the workplace by their current or prior intimate partners (IPs). It includes recommendations.
Keywords: Implications of the CPO and Workplace Violence Studies Reports in This Issue

Affiliations: 1: Editor, Domestic Violence Report.