Civil Protection Orders Increase Women's Safety
Author: Joan Zorza, Esq..
Source: Volume 15, Number 02, December/January 2010 , pp.17-19(3)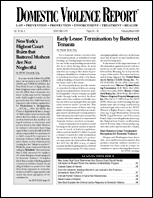 next article > |return to table of contents
Abstract:
One of the biggest questions in the domestic violence movement is whether obtaining a civil protection order (CPO) makes a victim safer or whether it inflames the abuser to worse violence; and if its effects are uniform or vary for different groups and, if so, for which groups do the effects vary. Several studies have found that CPOs generally work; domestic violence workers, however, who see mainly the worst abuse cases, including some where clearly the order did not end the violence, have been among the most likely to believe that they only inflame the violence. At last, a very wide- ranging study has pretty much established that CPOs work quite well, that they do so for women in urban and rural settings, that they make women feel safer, that even when they do not work, they tend to reduce the violence, and that the women for whom they do not work are those whose abusers stalked them before they even sought the order. It also found that the cost of CPOs is small compared to their benefits, particularly when factoring in the quality of life issues of the victim. All of the study's findings support DVR's position that stalking is far more serious, is almost always trivialized, and that it predicts the worst abuse cases: All these findings are made in this amazing study. T.K. Logan, Robert Walker, William Hoyt, and Teri Faragher conducted "The Kentucky Civil Protective Order Study: A Rural and Urban Multiple Perspective Study of Protective Order Protection Consequences, Responses, and Costs".
Keywords: stalking as predictor

Affiliations: 1: Editor, Domestic Violence Report.