Post- Deployment PTSD and Domestic Violence
Author: Evan S. Elan, Esq..
Source: Volume 15, Number 03, February/March 2010 , pp.33-39(7)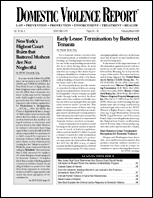 < previous article |next article > |return to table of contents
Abstract:
Within a six week period in 2002, three Special Forces soldiers returned from a combat deployment to Afghanistan and murdered their wives at Fort Bragg, North Carolina. Two of the soldiers committed suicide immediately, while the third hanged himself in a jail cell. A fourth soldier murdered his wife at the same base within that six-week period. This article discusses the issue of PTSD and DV.
Keywords: stigma of mental health treatment; assessment and counseling procedures; FAP; Family Advocacy Programs

Affiliations: 1: George Washington University Law School.