Diversion of DV Cases Endangers Victims
Author: Marjory D. Fields.
Source: Volume 15, Number 03, February/March 2010 , pp.33-36(4)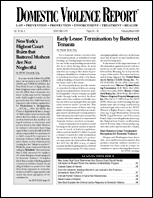 next article > |return to table of contents
Abstract:
Lawyers representing victims of domestic violence are often confronted with court rules or pressure to have their clients participate in court-sponsored alternative dispute resolution programs [ADR]. It may be difficult to craft arguments against court-sponsored ADR. This article presents reasons to oppose ADR in domestic violence [DV] cases.
Keywords: intimate partner violence data; declines in violence and homicide correlate with enactment of new legal remedies

Affiliations: 1: Beldock Levine & Hoffman.