Literature Review
Author: Margaret R. Moreland, J.D., M.S.L.S..
Source: Volume 15, Number 03, February/March 2010 , pp.35-37(3)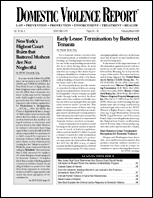 < previous article |next article > |return to table of contents
Abstract:
This column summarizes recent articles on issues of interest to readers of DVR: "The Military Report Card Concerning Domestic Violence and Sexual Assault, Including Compliance With the Lautenberg Amendment", Kathleen J. Somerville, 43 Family Law Quarterly 301 (Summer 2009); "On the Border: The Country's Ambiguous Response to Out-of-State Domestic Violence Victims Fleeing Their Abusers", by Laura Theresa Curcio Curry, 13 Holy Cross Journal of Law and Public Policy 9 (2009).
Keywords: Family Advocacy Program; FAP

Affiliations: 1: Pace University School of Law Library.