Batterers Who Kill Others
Author: Joan Zorza, Esq..
Source: Volume 15, Number 04, April/May 2010 , pp.51-55(5)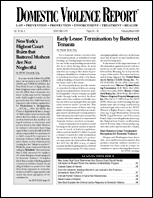 next article > |return to table of contents
Abstract:
While most batterers who kill murder their partners, some kill other family members and even non-relatives instead or in addition. This article reviews two very different books that discuss aspects of this phenomenon. The Mildred Muhammed Story is by the wife of the DC sniper, and discusses the connection of their domestic relationship, one of domestic violence, and the DC killings.
Keywords: "Familicidal Hearts: The Emotional Styles of 211 Killers" by Neil Websdale; "Scared Silent: The Mildred Muhammad Story"

Affiliations: 1: Editor, Domestic Violence Report.