Taking Stalking Seriously
Author: Cynthia Hess, Ph.D..
Source: Volume 15, Number 04, April/May 2010 , pp.49-50(2)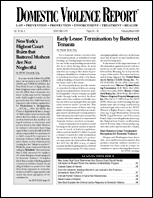 next article > |return to table of contents
Abstract:
This is a first-person account of the shooting death of a colleague by someone met two years earlier, an awakening by the author to the frequency and severity of stalking.
Keywords: Johanna Justin-Jinich

Affiliations: 1: Institute for Women's Policy Research.