What Is Needed to Support a Civil Suit?
Author: Anne L. Perry, Esq..
Source: Volume 15, Number 04, April/May 2010 , pp.52-53(2)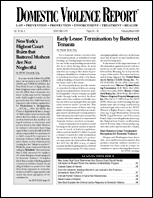 next article > |return to table of contents
Abstract:
This article discusses a case in which a woman sued an insurance company for providing her address to her ex-husband, and another cases of related interest on the subject.
Keywords: Barbara Bryant; Bryant v. Aetna Health, 2009 WL 1303356 (C.D. Cal. 2009); In re Marriage of Nadkarni, 173 Cal. App. 4th 1483 (Cal. Ct. App. 2009)

Affiliations: 1: Contributing Editor at DVR.