Second Circuit Rules Police Risk Liability for Encouraging Batterer and Increasing DV Risk
Author: Anne L. Perry, Esq..
Source: Volume 15, Number 05, June/July 2010 , pp.67-68(2)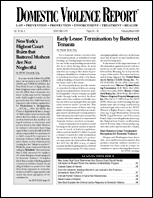 < previous article |next article > |return to table of contents
Abstract:
Plaintiff Michelle Okin sued the New York Village of Cornwall-on- Hudson and the Town of Cornwall and several officers in their personal capacities for their failure to protect her from her boyfriend, Roy Charles Sears. Okin and Sears began a relationship in 1999, moved in together in a house owned by Sears, and had twins in 2001. In that same year, according to Okin, Sears began to abuse her physically. Okin alleged that Sears was well known to local police officers with whom he socialized at a tavern of which he was part owner. This article provides further background and determination of the case.
Keywords: DeShaney; Okin v. Village of Cornwall-on-Hudson Police Dep't, 2009 U.S. App. LEXIS 18422 (2nd Cir. 2009).

Affiliations: 1: Contributing Editor at DVR.