U.S. Supreme Court Overturns Wife Killer's Death Sentence
Author: Anne L. Perry.
Source: Volume 15, Number 05, June/July 2010 , pp.55-56(2)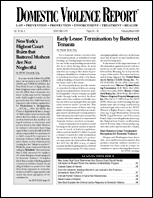 < previous article |next article > |return to table of contents
Abstract:
The United States Supreme Court recently overturned the death sentence of George Porter, Jr. for the first-degree murder of his former girlfriend. Porter v. McCollum, 558 U.S.__, No. 08-10537 (2009) (per curiam). The Court agreed with Porter, a decorated Korean War veteran, that his attorney was deficient in failing to present mitigating evidence during the penalty phase of the trial.
Keywords: Porter's Double Murder Conviction Results in Death Sentence

Affiliations: 1: Contributing Editor at DVR.