Criminal Cases From Around the Country DVR1505
Author: Anne L. Perry, Esq..
Source: Volume 15, Number 05, June/July 2010 , pp.69-71(3)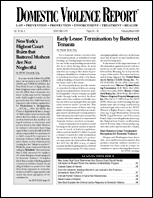 < previous article |next article > |return to table of contents
Abstract:
This column summarizes recent legal cases of interest to readers of DVR. Including: People v. Munoz, No. 1-08-0645 (Ill. Ct. App. 2010); Koll v. Dep't of Justice, No. 2008AP2027 (Wisc. Ct. App. 2009); Clark v. State, No. 43S00-0810-CR-575 (Ind. 2009); People v. Williams, 2009 Cal. App. Unpub. LEXIS 526; State v. Hernton, 2009 Ohio App. LEXIS 1252.
Keywords: Illinois: First-Degree Murder Conviction Reversed on Improperly Admitted Hearsay; Wisconsin: "Non-Domestic" Disorderly Conduct Conviction for Assault on Girlfriend Was Sufficient to Bar Defendant From Possessing a Gun' US v. Hayes; Indiana: MyS

Affiliations: 1: Contributing Editor at DVR.