New Jersey Supreme Court Finds DV Act Constitutional
Author: Anne L. Perry, Esq..
Source: Volume 16, Number 01, October/November 2010 , pp.1-2(2)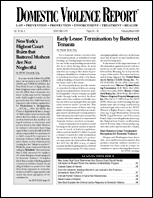 < previous article |next article > |return to table of contents
Abstract:
The Facts. The Defendant, Anibal Crespo, and his wife, Vivian Crespo, divorced after 17 years of marriage. Despite the divorce, they continued to inhabit the same two-family house where Anibal lived on the second floor with his parents and Vivian lived with their three children on the first floor. Three years into this arrangement, after a dispute over child support, Vivian obtained a temporary restraining order against Anibal, alleging past and present verbal and physical abuse. After a two day trial, the judge issued a final restraining order (FRO) in Vivian's favor. Anibal appealed and the New Jersey Appellate Division affirmed the decision. Two years after entry of the FRO, Anibal moved for relief from the FRO, claiming the Prevention of Domestic Violence Act was unconstitutional. Anibal argued that the Act converted what should have been a criminal prosecution into a civil proceeding, thus depriving the parties of their right to a jury trial. He also argued that the Act denied him due process by failing to provide sufficient notice prior to the hearing, by applying a preponderance of the evidence standard instead of a clear and convincing standard, and by failing to permit discovery or a right to counsel. The trial court determined that the Act's "practice and procedure" components violated the separation of powers doctrine and that the Act's preponderance standard of proof violated due process principles. This article follows the case's progress to the NJ Appellate Dicision and the state Supreme Court.
Keywords: Crespo v. Crespo , No. A-28-09 (N.J.2009)

Affiliations: 1: Contributing Editor at DVR.