Reasonable Efforts or Unrealistic Expectations: A Look at Hennepin County Child Protection Cases
Author: Marna Anderson, M.A..
Source: Volume 16, Number 01, October/November 2010 , pp.1-3 (3)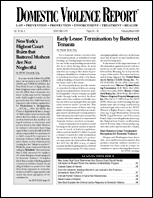 next article > |return to table of contents
Abstract:
WATCH is a court monitoring and research organization focused on violence against women and children. Since 1993, WATCH has trained volunteers to monitor civil and criminal court hearings in Hennepin County, Minnesota, with the goal of creating a more effective and responsive justice system. This article is a first-person account of their operation.
Keywords: Children in Need of Protection or Services; CHIPS;

Affiliations: 1: Executive Director of WATCH.