Two New Books for Women Who Have Been Abused
Author: Joan Zorza, Esq..
Source: Volume 16, Number 01, October/November 2010 , pp.3-4(2)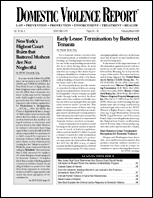 < previous article |next article > |return to table of contents
Abstract:
This column reviews two recent books by female abuse victims: "He's Just No Good for You: A Guide to Getting Out of a Destructive Relationship", by Beth Wilson, with Mo Therese Hannah (GPP Life, 273 pages,2009) and "The Saber-Toothed Tiger: The One Reason Women Stay With Abusive Men", by Josée Perrine (iUniverse, 150 pages, 2010).
Keywords: its [The Saber Toothed Tiger's] premise that women are battered because they did not get enough love growing up is simply wrong.

Affiliations: 1: Editor, Domestic Violence Report.