Restorative Justice: Does It Work for DV Victims? Part II
Author: Joan Zorza, Esq..
Source: Volume 16, Number 04, April/May 2011 , pp.51-55(5)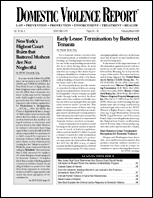 < previous article |next article > |return to table of contents
Abstract:
This column summarizes recent cases involving orders of protection in New York State: Dos Santos v. Dos Santos , No. 2009-04380 (N.Y. App. Div. 2010) and In re Richardson, 2010 N.Y. Slip Op. 07943 (N.Y. App. Div. 2010)
Keywords: RJ does not reduce violence; momentum for RJ coming from defense attorneys

Affiliations: 1: Editor, Domestic Violence Report.