Stalking and Harassment Cases
Author: Anne L. Perry, Esq..
Source: Volume 16, Number 04, April/May 2011 , pp.53-54(2)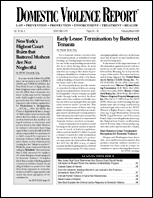 < previous article |next article > |return to table of contents
Abstract:
This column reports on background facts, details, and findings indecent cases involving issues of stalking and harassment including A.S. v. Decker , Nos.WD71680, WD71681 (Mo. Ct. App.2010); State v. Eichorn, No. 2009AP1864-CR (Wis. Ct. App. 2010); and State v. Meneses , No. 83172-6 (Wash. 2010)
Keywords: Missouri: Order of Protection Based on Stalking Reversed in Absence of Repeated Acts Directed at Victim; Wisconsin: Course of Conduct Over 15 Minutes Amounts to Stalking; Washington: Telephone Harassment and Witness Intimidation Convictions Affirmed

Affiliations: 1: Contributing Editor of DVR.