Workplace Bullying: When the Abuser Goes to Work
Author: Patricia G. Barnes, Esq..
Source: Volume 16, Number 04, April/May 2011 , pp.49-51(3)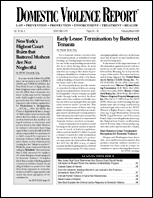 < previous article |next article > |return to table of contents
Abstract:
Workplace bullying (WB) is an issue that should be of interest to the DV community. Research done in the past 30 years on batterers is potentially relevant to the problem of workplace abuse. And the DV community includes a workforce that, like other workforces, is potentially subject to abuse. This article discusses the links between workplace and domestic abuse.
Keywords: connection between WB and domestic violence

Affiliations: .