Custody Roundtable Is Unanimous: Abusers Are Winning Custody, and Courts Have Been Duped
Author: Joan Zorza, Esq..
Source: Volume 16, Number 05, June/July 2011 , pp.59-61(3)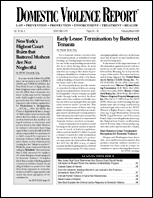 < previous article |next article > |return to table of contents
Abstract:
Fathers, and especially the ones who abuse women, have long maintained that they are treated unfairly by judges, insisting that their female partners virtually always win custody of their children. Despite men's longstanding claims, based on no credible evidence, that women win more than 90% of contested custody disputes, 2 even 30 years ago, fathers in contested custody cases won joint or sole custody in at least 70% of contested cases, and sole custody in 63% of trial court decisions, and over half of the nation's appellate decisions. A future article will discuss other possible remedies for our country's egregious failure to protect children from incest.
Keywords: Bonnie Campbell first Director of the Violence Against Women Office in the Department of Justice; Rita Smith; Joan Zorza; men increasingly winning child custody cases; Richard Gardner; parental alienation syndrome; Douglas Besharov first director of

Affiliations: 1: Editor, Domestic Violence Report.