Hague Convention Cases Involving Allegations of Domestic Violence: Testimony of Professor Jeffrey L. Edleson, U.S. Department of State, March 4, 2011
Author: Jeffrey L. Edleson, Ph.D..
Source: Volume 16, Number 05, June/July 2011 , pp.57-59(3)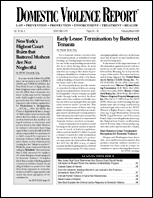 < previous article |next article > |return to table of contents
Abstract:
Editorial Note: The Convention on the Civil Aspects of International Child Abduction was finalized at The Hague in 1980 and was adopted by the United States in 1988. Child abduction, under the auspices of the Hague Convention, was defined as the wrongful removal of a child in violation of the custody rights of another parent or retention of a child in a country other than that deemed to be the child's "habitual residence." The Convention requires that adopting nations respect the rights of custody and visitation between parents, and therefore, requires the "prompt return" of any child who was taken to another country without permission of both custodial parents. Parents who take their children out of the country without the permission of the other to have the children removed and returned to the child's habitual residence. Jeffrey Edleson, a professor at the University of Minnesota was recently appointed by US Attorney General Eric Holder to the National Advisory Committee on Violence Against Women and have served on several National Academy of Sciences panels and committees focused on violence. These are his remarks.
Keywords: Domestic Violence Being Committed in Families Engaged in Hague Litigation

Affiliations: 1: University of Minnesota School of Social Work.