Developing a Policy to Combat Officer-Involved Domestic Violence
Author: Jan Russell, J.D..
Source: Volume 16, Number 05, June/July 2011 , pp.65-67(3)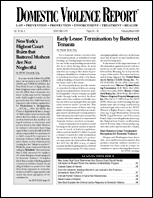 < previous article |next article > |return to table of contents
Abstract:
In 1992, the Chicago Police Department (Department) began to develop a policy to deal with officer-involved domestic violence. It was the first department in the country to take this issue seriously. To date, it remains the only department to invest significant funding and energy in this issue, including having a program within the Department to provide direct services to victims of domestic violence who are abused by members of the Department. This is a first-person account about the development of that policy and factors to consider in replicating it.
Keywords: Liability for Failing to Respond to Officer-Involved Domestic Violence

Affiliations: 1: Chicago Police Department.