Support for Protective Mothers From Men's Groups
Author: Barry Goldstein.
Source: Volume 16, Number 05, June/July 2011 , pp.65-67(3)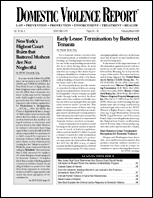 next article > |return to table of contents
Abstract:
The United States, like many other countries, faces a crisis in the custody court system that places children in danger. Every year at least 100 children are murdered by abusive fathers involved in contested custody cases, often with the unwitting assistance of inadequately trained court professionals. And every year more than 58,000 children are sent for custody or unprotected visitation with dangerous abusers. "Domestic Violence, Abuse, and Child Custody", co-edited by Mo Therese Hannah and Barry Goldstein, is a multidisciplinary book with chapters by over 25 of the leading experts including judges, lawyers, psychiatrists, psychologists, sociologists, journalists, and domestic violence advocates. It brings the current scientific research together in one place and establishes that custody courts are routinely failing to protect children because they continue to use outdated and discredited practices that were adopted over 30 years ago, at a time when no research was available. This article is a first-person account of the contentious NOMAS meeting in Salt Lake City regarding "fathers' rights" groups and custody issues.
Keywords: The National Organization for Men Against Sexism; NOMAS; Ben Atherton-Zeman; Ed Barton; Moshe Rozdzial; Parental Alienation Syndrome

Affiliations: .