Criminal Domestic Violence Cases
Author: Anne L. Perry, Esq..
Source: Volume 16, Number 05, June/July 2011 , pp.70-70(1)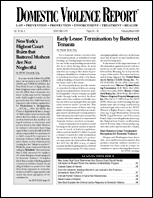 < previous article |next article > |return to table of contents
Abstract:
This column summarizes and discusses recent cases on the subject, including Peralta v. State , No. 08-09-00006-CR (Tex. Ct. App. 2010) and State v. Gibson , No. 35520 (W.V. Ct. App. 2010)
Keywords: Texas: English Translation of Husband's Confession Was Properly Admitted in Marital Rape Trial; West Virginia: Subsequent Offense Domestic Violence Law Requires Only Prior Conviction in Past 10 Years

Affiliations: 1: Contributing Editor of DVR.