Child Custody Roundtable II: Proposed Solutions
Author: Joan Zorza, Esq..
Source: Volume 16, Number 06, August/September 2011 , pp.85-88(4)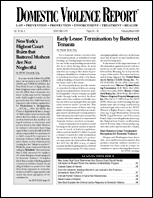 < previous article |next article > |return to table of contents
Abstract:
This article follows up on "Custody Roundtable Is Unanimous: Abusers Are Winning Custody" in the last issue of DVR (p. 69) about some disturbing things that were acknowledged to exist at the Protective Parents Roundtable. The Office on Violence Against Women (OVW), Domestic Violence Legal Empowerment & Appeals (DV LEAP), and National Coalition Against Domestic Violence (NCADV) convened the Roundtable on March 22, 2011, in Washington, DC, and they acknowledged that women and children are being badly hurt in custody cases in the nation's courts. Specifically, women and children are not being believed when they allege domestic violence (DV)or incest in custody cases. And a large part of the fault for this was a campaign in the 1970s to convince state legislatures, courts, and child protection agencies to decriminalize incest and child sexual abuse crimes based on clearly false information—that such crimes seldom happen, that they are seldom repeated, that in any case they stop once anyone becomes aware of them, and that that they do not harm children. Much of this same misinformation is the basis for the Parental Alienation Syndrome, a theory invented at the same time and also with no scientific basis; the DSM-5, the gold standard for psychiatric diagnoses, has rejected "parental alienation disorder." This article makes some suggestions in response to an invitation by OVW, to correct, or at least help alleviate, the problem.
Keywords: abuse custody court laboratory; Child Abuse Protection Treatment Act; CAPTA; Use VAWA, CAPTA, or Other Federal Funding to Forbid Abhorrent Practices

Affiliations: .