Hague Convention Cases
Author: Anne L. Perry, Esq..
Source: Volume 16, Number 06, August/September 2011 , pp.83-87(5)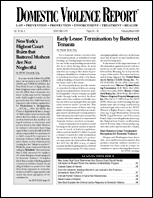 < previous article |next article > |return to table of contents
Abstract:
In this article, DVR's Contributing Editor Anne L. Perry discusses some recent international cases of interest to our readers. The United States is a signatory to the Hague Convention on the Civil Aspects of International Child Abduction, implemented through the International Child Abduction Remedies Act (ICARA), 42 U.S.C. § 11601 et seq . The purpose of the Hague Convention is to "secure the prompt return of children wrongfully removed or retained in any Contracting State" and to effectively deter such behavior. The Hague Convention also aims to "ensure that the rights of custody and access under the laws of one Contracting State (i.e., nation) are effectively respected in other Contracting States." Hague Convention cases are governed by international law, under which court decisions from one nation have as much legal authority (or weight) as decisions from any other nation.
Keywords: Supreme Court Orders Child Returned to Father in Chile; Abbott v. Abbott , 560 U.S. __ (2010); Charalambous v. Charalambous, No. 10-2227 (1st Cir. 2010); Fernandez v. Bailey , No.1:10CV00084 (E.D. Mo. 2010); Miltiadous v. Tetervak , No. 08-5381 (D. P

Affiliations: 1: Contributing Editor of DVR.