Literature Review: New Insights on Domestic Violence and HIV-Related Health
Author: Margaret R. Moreland, J.D., M.S.L.S..
Source: Volume 16, Number 06, August/September 2011 , pp.89-90(2)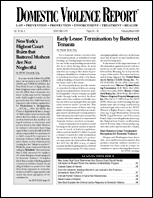 < previous article |next article > |return to table of contents
Abstract:
This research review summarizes the findings and conclusions of some recent articles of interest to readers of DVR: "Stories Absent From the Courtroom: Responding to Domestic Violence in the Context of HIV and AIDS", by Jane K. Stoever, 87 North Carolina Law Review 1157 (2009) and "Violence, Coping, and Consistent Medication Adherence in HIV-Positive Couples", Eliot J. Lopez, Deborah L. Jones, Olga M. Villar-Loubet, Kristopher L. Arheart, and Stephen M. Weiss, 22 AIDS Education and Prevention 61 (2010).
Keywords: American University Washington College of Law; University of Miami Miller School of Medicine

Affiliations: 1: Pace University School of Law Library.