Case Review: Orders of Protection
Author: Anne Perry.
Source: Volume 18, Number 05, June/July 2013 , pp.67-68(2)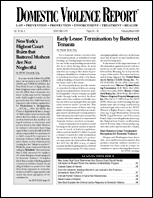 < previous article |next article > |return to table of contents
Abstract:
This article summarizes the background, rulings, and implications of recent cases regarding orders of protection, including: Lewis v. Lewis ,728 S.E.2d 741 (Ga. Ct. App. 2012); S.K. v. J.H , 43 A.3d 1248 (N.J. App. Div. 2012); Durham v. Metzger , 2012 WL1556490 (Ky. Ct. App. 2012); State v. Phipps , 820 N.W.2d 282(Minn. Ct. App. 2012)
Keywords: Abuse need not be recent if likely to occur in future; Assault After One Night of Socializing Not Domestic Violence

Affiliations: .