Exposing Children to Domestic Violence: Research Report
Author: Margaret R. Moreland, JD, MSLS.
Source: Volume 18, Number 05, June/July 2013 , pp.69-70(2)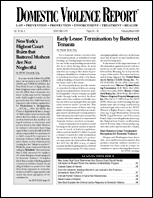 < previous article |next article > |return to table of contents
Abstract:
Attorney General Eric Holder recently highlighted initial steps for implementing the recommendations of the National Task Force on Children Exposed to Violence. In an address at the Coordinating Council on Juvenile Justice and Delinquency Prevention Meeting in Washington, D.C., he identified short- and long-term strategies in four primary areas: raising public awareness; strengthening professional education and training; building knowledge through ongoing research; and increasing Department of Justice and federal coordination and capacity.
Keywords: "Defending Childhood: Protect, Heal, Thrive; Report of the Attorney General's National Task Force on Children Exposed to Violence"; trauma-specific treatment

Affiliations: 1: Pace University School of Law Library.