Congressional Gridlock Blocked VAWA
Author: D. Kelly Weisberg.
Source: Volume 18, Number 05, June/July 2013 , pp.65-67(3)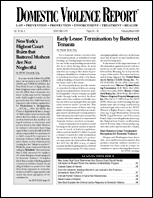 < previous article |next article > |return to table of contents
Abstract:
Congressional gridlock led to almost two years of delay in the reauthorization of the Violence Against Women Act (VAWA). Passage of the original VAWA in 1994, as well as its two subsequent reauthorizations, received strong bipartisan support. Yet when VAWA expired in September 2011, efforts to renew the law foundered in Congress as the reauthorization process became bogged down in partisan politics. This article discusses some of the issues being negotiated prior to passage.
Keywords: two chambers unable to reconcile their differences

Affiliations: 1: Professor of Law, UC Hastings.