Case Summaries
Author: Ann L. Perry.
Source: Volume 18, Number 06, August/September 2013 , pp.87-88(2)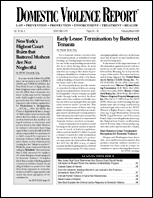 < previous article |next article > |return to table of contents
Abstract:
This article discusses the background, outcome, and implications of recent cases on subjects of interest to readers of DVR, including People v. Beltran, 301 p.3d 1120 (Cal. 2013); People v. Martz, 2013 WL 2361003 (Mich. Ct. App. 2013); and People v. Hoover, 2013 WL 45647 (Mich. Ct. App. 2013).
Keywords: provocation standard; spousal rape conviction in context of disability

Affiliations: .