Literature Review
Author: Margaret R. Moreland, JD, MSLS.
Source: Volume 18, Number 06, August/September 2013 , pp.89-90(2)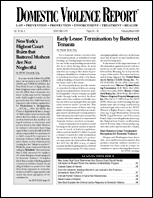 < previous article |next article > |return to table of contents
Abstract:
This research review column discusses recent articles of interest to readers of DVR. This issue includes: "Transgender People, Intimate Partner Abuse, and the Legal System", by Leigh Goodmark, 48 Harv. Civ. Rts.-Civ. Lib. Rev. 51 (2013) and "What Sleeping Babies Hear: A Functional MRI Study of Interparental Conflict and Infants' Emotion Processing", by Alice M. Graham, Philip A. Fisher & Jennifer H. Pfeifer, 24 Psychological Science 782 (2013).
Keywords: barriers confronting transgender people seeking relief

Affiliations: 1: Pace University School of Law Library.