History Explains the Need for VAWA's New Protections for American Indian Women
Author: Jacqueline P. Hand.
Source: Volume 18, Number 06, August/September 2013 , pp.85-87(3)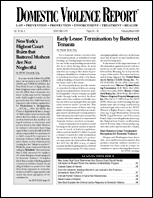 < previous article |next article > |return to table of contents
Abstract:
Domestic violence directed at American Indian women occurs more frequently, is more violent, and is perpetrated by persons from outside their racial group in far greater numbers than is true for the general population in the U.S. 1 For example, American Indian and Alaska Native women are raped nearly twice as often as white and African- American women and are stalked more than twice as often as whites and African- Americans. 2 Ninety percent of these rapes of Indian women are committed by non-Indians. 3 Physical assaults, most of which are domestic in nature, also are higher among American Indian women than among any other demographic group. 4 Nearly 40% of American Indian women report that they have been victims of domestic violence. 5 These numbers, striking as they are, may well undercount the extent of domestic violence and rape against American Indian women: many Native American women do not trust non-Indian researchers and are unwilling to discuss openly a private matter, such as domestic violence, and, in particular, rape. The above statistics, together with limitations on the jurisdiction of tribal governments to protect women in Indian country to deal with attacks on Indian women, left a serious gap in protections for these women. The 2013 update of the Violence Against Women Act (VAWA) is intended to go a significant distance in closing that gap. This article explains the historical reasons that necessitated these VAWA protections
Keywords: Oliphant v. Suquamish Indian Tribe, 435 U.S. 191 (1878); VAWA significant step in protecting Indian women

Affiliations: 1: University of Detroit Mercy School of Law.