Economic Ripple Effect of IPV: Building Partnerships for Systemic Change
Author: Sara J. Shoener .; Erika A. Sussman.
Source: Volume 18, Number 06, August/September 2013 , pp.82-84(3)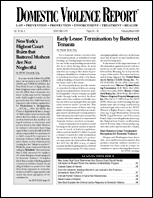 < previous article |next article > |return to table of contents
Abstract:
The reciprocal relationship between intimate partner violence (IPV) and poverty is well documented. Batterers create economic instability for their partners through economic sabotage and control. And poverty, in turn, creates increased vulnerability to violence and additional barriers to safety. While the domestic violence literature has highlighted the importance of economic security for survivors, few researchers have examined the breadth and long-term impact of batterers' deliberate actions to sabotage survivors' economic security. Indirect and lasting economic consequences ripple throughout survivors' lives long after the abuse has stopped, compounding their effects and creating increased vulnerability to future abuse. This article, we identifies the dimensions of economic harms experienced by survivors and recommend programmatic responses to address the full range of these harms. These recommendations are based on data collected from survivors, advocates, and attorneys, through interviews, a national needs assessment, and over a decade of technical assistance work. The inter-relationships are explained; a chart is provided.
Keywords: resource use prevention; consumer law as remedy; Center for Survivor Agency and Justice; CSAJ; Domestic Violence and Consumer Issues Screening Tools; Building Partnerships for Consumer Rights Self-Assessment Tool; Innovative Partnerships Pilot Projec

Affiliations: 1: Center for Survivor Agency and Justice; 2: Center for Survivor Agency and Justice.