Summary of Legal Literature
Author: Elana Jacobs.
Source: Volume 19, Number 02, December/January 2014 , pp.21-22(2)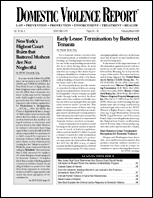 < previous article |next article > |return to table of contents
Abstract:
This column summarizes the findings and conclusions of recent legal literature.
Keywords: "Comment: Pulling the Trigger: Shooting Down Mandatory Minimum Sentencing for Victims Who Kill Their Abuser", Lauren Danice Shuman, 56 How. L.J. 983 (2013); "Family Mediation After Hendershott: The Case for Uniform DV Screening and Opt-In Provi

Affiliations: 1: UC Hastings College of the Law.